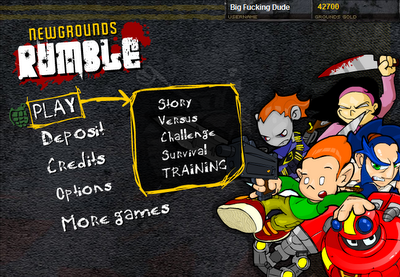 Newgrounds Rumble is a fighting game on Newgrounds.com featuring many original Newgrounds characters.
Unlockable
Edit
The Portal
Anywhere, USA
Piconjo Manor
Japanese Garden
Pico's School
Nene's Store
The Meat Locker
Wartorn
Nevada
Unlockable
Edit
Junkyard
Padded Cell
Training Room
Ad blocker interference detected!
Wikia is a free-to-use site that makes money from advertising. We have a modified experience for viewers using ad blockers

Wikia is not accessible if you've made further modifications. Remove the custom ad blocker rule(s) and the page will load as expected.